ClockMasters Australia can manufacture quality clocks for streetscaped parks or gardens from 50cm. We can design, manufacture and install a variety of clocks, which enhance the surrounding architecture. Street clock movements are manufactured to a high standard using the latest technology and quality materials.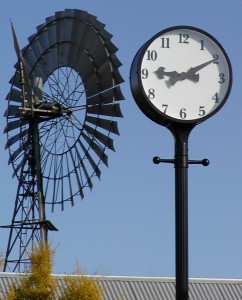 Historical Street Clock:
On the main road from Adelaide to Melbourne this small country town required a clock that fitted in with its history.
This clock was designed with this in mind. The design offers a clear dial which is easily read by passing traffic and the local public. The clock has night illumination from behind the dials.
Modern Street Clock:
The specification for this clock were to look modern and fit in with the environment.The clock is constructed of stainless steel with the dials and markers in aluminium.
The clock was given an 3D look with the appearance changing from day to night. Behind the minute markers and dials are LED lights which give an illuminated glow.
The clock offers automatic daylight saving and automatic reset to the correct time after a power blackout.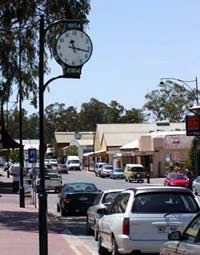 Town Clocks:
Mannum clock on the river Murray.The town required a clock to celebrate there 100 years. The clock featurse the dates 1853 & 2023 above and below the dials.
At night the dials and dates are illuminated. The clock and pole are made in steel and the time is controlled using a master clock. The clock fits in nicely with this old river side town.