ClockMasters can supply and manufacture time zone clocks for every ones needs. We offer a range of time zone clocks from analogue to digital.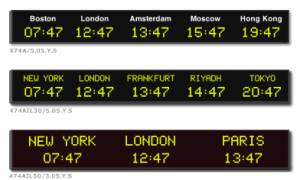 Digital clocks
Digital clocks come in a range of LED display highs from 25 to 120 mm to suit the viewing distance you require. Option of fixed place locations or illuminated location which can be changed.
The LED's offer you a range of colors Red, Green or Yellow.
Displays come in horizontal or vertical.
The LED time zone clocks offer the following functions :
Zones titles to customers speculations
Automatic daylight saving change over for each zone
Automatic reset to time after power black-out
12 or 24 hour display
Stand-alone or slave master system
Aluminum cases
LED time zone clocks start from 2 zones and go up to 8 zones
All LED time zone clock displays can come with or without calendar display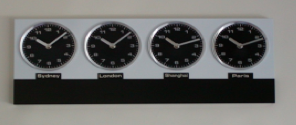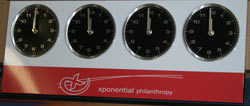 Analogue Time Zone Clocks
Analogue 4 zone clocks come with 8 magnets zone names:
Tokyo, Paris Sydney, Shanghai, London, New York, Los Angeles and Local.
Wall mounted
The clocks are battery operated with AA batteries
Case size 395 x 35mm
Options:
Magnet names made to suit your needs
Your business name put on the clock
ClockMasters can make Time Zone clocks to your individual requirements. These clocks are made to suit your design.
Analogue or LCD digital time zone clock are made to order have the following functions:
AA batteries
Analogue 3Zone titles to customers specifications
Manufactured to individual needs
LCD time in 12 or 24 hour
If you are interested in having a time zone clock made please enquire about a quote!