For the precise time synchronisation ClockMasters offer all their outdoor LED clocks with GPS time setting. ClockMasters outdoor clocks come as a single sides clock or as a double sided. A number of clocks can be synchronisation between each other using only one GPS unit. Our clock display sizes start at 300 mm to 400 mm high. For larger sizes a special order can be made. ClockMasters clocks are made to the highest standard and come preprogrammed ready for ease installation.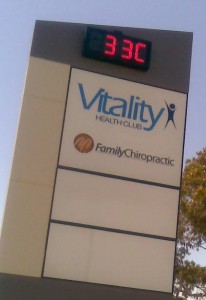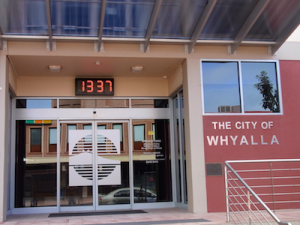 The clocks can display time only or time temperature. The time delay between time and temperature can be set to the needs of the client.
300 mm high clocks have a viewing distance of 150 metres.
400 mm high clocks have a viewing distance of 200 metres.
Larger or smaller clocks can be made by special order.
Features:
Power 240 Vac
Operating temperature -40c to + 50c
Service access from the front of the case
Automatic LED dimming 16 levels for day & night
Automatic GPS time setting
Time display in 12 or 24 hour display
Automatic daylight saving change over
Automatic leap year changing
Ultra bright red led display
Automatic time reset after power black-out
Hour & minute display
Time only or time & temperature display
Weather proof case
Viewing angle 90′ / 45′
LED life 1,000,000 hours
Warranty 1 year
Outdoor count up & down stopwatch displays can be supplied (see our sports clocks).