ClockMasters manufacture digital timers to cover all sporting activities.
All are made to suit each clubs individual requirements and there is also the option of a scoreboard. Our digital displays are available for in-side and out-side use.
The digital clocks have high quality crystal timing with count up and down in minutes and seconds.
Clocks are available in various sizes starting from 200mm with figures or numbers and come with a RF remote. The timer has an automatic and manual brightness control.
Option of:
Count up
Count down
Split timing
Minutes & seconds display
Hours, minutes & seconds display
Analogue time clocks for golf or cricket buildings or on the side of the score board.
Outdoor sizes start from 60 cm to 3 metres diameter.
Featured Projects: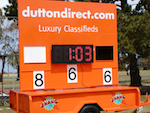 Made to order for the Victoria Polo Club. This count up timer offer start, hold, stop & reset. The unit was made as a self contained system operating off batteries. A storage compartment with-in the trailer holds all the scoreboards, clock when being transported for convenience.
Darwin cricket club. 1.5 metre diameter dial. The hands and chapter ring dial are in aluminium. The movement used in the change rooms was an long-life low maintenance Swiss A55 slave movement with a HN 50 master clock.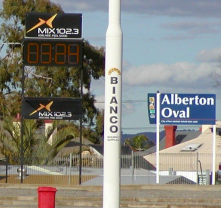 Timing clock made for the Port Adelaide Football clock. At Alberton Oval. The clock has 400 mm high display numbers giving a viewing distance of 200 metres. The clock operation offers: start, stop, hold & reset to 0.